כדי ללמוד עוד על השותפים שלנו ועל הפעילות שלהם, אנא בחרו אחד מהקישורים מטה.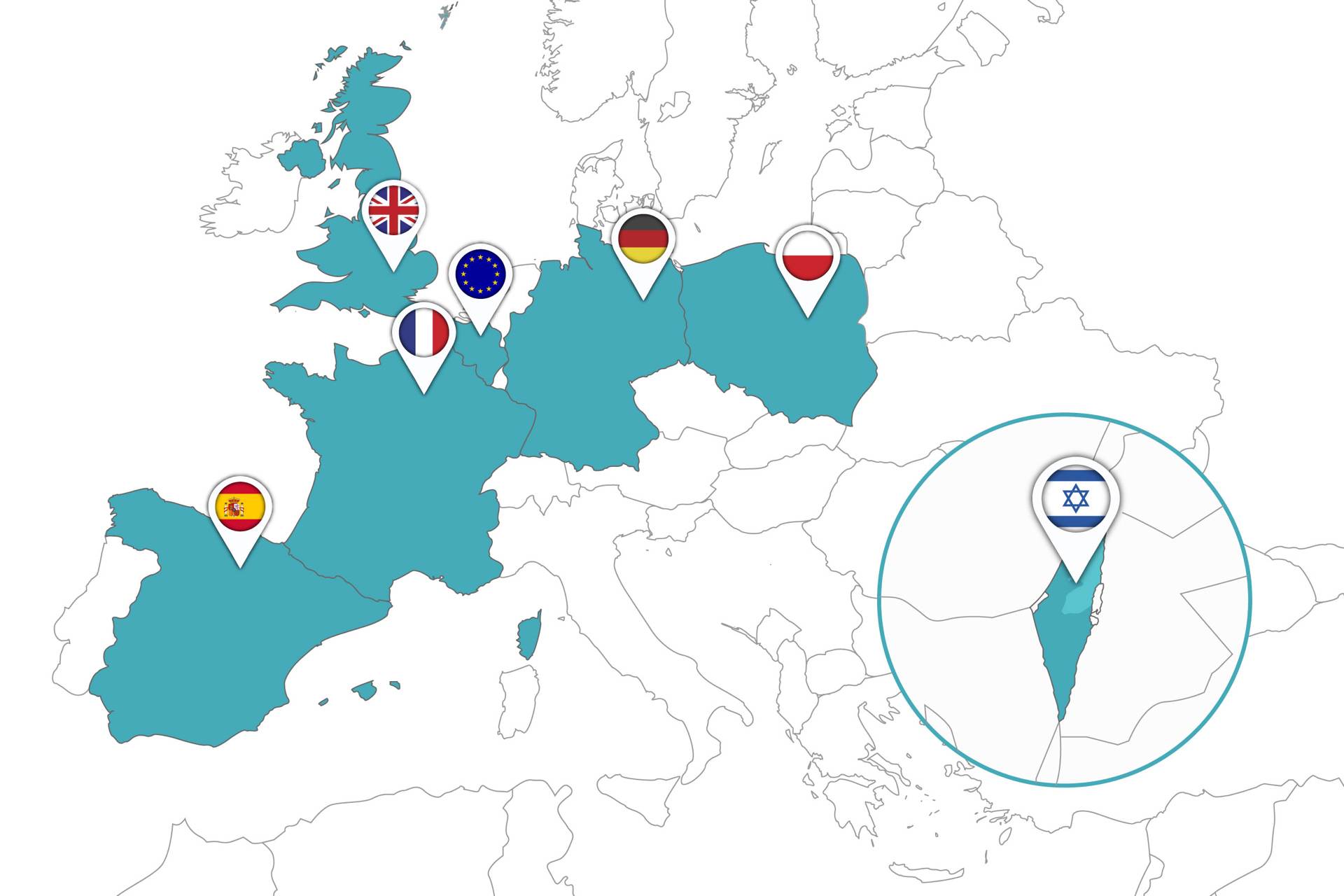 גרמניה
ELNET Germany works across the entire political spectrum to foster and develop Germany-Israel relations through strategic meetings, educational seminars, and delegations in both Germany and Israel.
פולין
ELNET Poland works locally to strengthen Poland-Israel cooperation, and hosts delegations of key elected officials, dealing with foreign and security affairs to Israel and Poland.
האיחוד האירופי
ונאט"ו
ELNET EU & NATO organizes seminars, strategic dialogues, study visits and roundtables bringing together Israeli and EU political leaders around issues of critical importance to both.
הממלכה
המאוחדת
Forum of Strategic Dialogue, part of ELNET network, along with Chatham House, organizes annual UK-Israel Strategic Dialogues bringing together policy makers and experts for a strategic discussion on shared challenges and opportunities.
צרפת
ELNET France provides in-depth expertise and opportunities to French experts and decision-makers through publications, educational seminars and study visits to Israel in various specialized fields.
ספרד
ELNET organizes study visits and delegations to Israel for a broad spectrum of Spanish decision-makers, officials and experts.
ישראל
ELNET Israel provides broad opportunities for Israeli decision makers and opinion leaders to engage in a frank and open dialogue with their European counterparts, while locally supporting the work of the entire ELNET network.
ארגון אלנט הוקם ב-2007 כמוסד ללא מטרות רווח השואף לחזק את הקשרים בין אירופה וישראל על בסיס הערכים הדמוקרטיים המשותפים והאינטרסים האסטרטגיים של הצדדים.

הפורום לדיאלוג אסטרטגי (FSD) הוא פלטפורמה המאפשרת דיונים אסטרטגיים ברמה הגבוהה בין אירופה וישראל, ללא המגבלות הנובעות מהיחסים הרשמיים בין הממשלות. כחלק מהרשת שלנו, הפורום לדיאלוג אסטרטגי מעודד שליחי ציבור בכירים ומומחים מובילים בתחומם לפתח רעיונות שיסייעו לשיתוף פעולה דו-צדדי ולקידום היחסים. ה-FSD מארגן מדי שנה דיאלוגים בין ישראל ומדינות אירופאיות חשובות: צרפת, גרמניה, הממלכה המאוחדת, ספרד, פולין וכן עם האיחוד האירופי. בנוסף, ה-FSD אירגן בשנת 2018 את המשולש האסטרטגי הראשון בין ארה"ב, אירופה וישראל. כמו כן, ב-2014 אירגן אירוע בשיתוף פעולה בין ישראל ונאט"ו.