כלכלת גרמניה היא הגדולה באירופה, עם האוכלוסייה הגדולה ביותר ובעלת השפעה רבה במוסדות אירופאיים. כשחקנית גלובלית משמעותית, גרמניה היא הכלכלה הרביעית בגודלה בעולם. לגרמניה השפעה רבה על היחסים בין ישראל ואירופה, זאת על ידי תמיכה בקידום הקשרים הכלכליים והמדעיים וכן נתנה חסות למספר הסכמים חשובים בין ישראל והאיחוד האירופי.
מקובל לראות בגרמניה בת ברית אסטרטגית של ישראל, השנייה בחשיבותה לארצות הברית.  בשנת 2019, המסחר הדו-צדדי בין המדינות הסתכם בכ-13.9 מיליון דולר, כך שגרמניה היא המדינה עם היקף המסחר הגדול ביותר באירופה עם ישראל. שתי המדינות חולקות אינטרסים אסטרטגיים משמעותיים במזרח התיכון, כולל מאבק בטרור, תוך עידוד יציבות אזורית ושלום. גרמניה תומכת בתוכניות הגנה שונות של ישראל ומשחקת תפקיד מפתח מול איראן. ממשלת גרמניה הובילה את המהלך לכלילת הזרוע הצבאית של החיזבאללה ברשימת ארגוני הטרור של האיחוד האירופי.
ביטחונה ורווחתה של ישראל מהווים אבני יסוד במדיניות החוץ של גרמניה מאז מלחמת העולם השנייה. לפי הקנצלרית אנגלה מרקל, תמיכה בזכות הקיום של ישראל היא אינטרס קיומי של גרמניה. ההיסטוריה הכאובה של היחסים בין העם היהודי והגרמני, משפיעה על הקשרים הפוליטיים בין המדינות עד היום. עם זאת, האהדה של גרמניה לישראל נשחקת, שכן הנכדים והנינים של הדור שחווה את השואה אינם זוכרים היטב את העבר. לכן, אחד האתגרים הגדולים הוא לשמור על יחסים דו-צדדים קרובים ולהשאיר את ישראל  בראש סדר היום הפוליטי-גרמני. יתר על כן, זה חיוני עבור שתי המדינות לגלות שיש להן יותר במשותף ושהן חולקות יותר ערכים ואינטרסים ממה שנראה לעין, מעבר לקשרים ההיסטוריים הידועים.
המשרד של אלנט בגרמניה הוקם ב-2014, בעיר הבירה ברלין. המשרד עוסק בקירוב היחסים בין גרמניה וישראל על בסיס אינטרסים וערכים דמוקרטיים משותפים. לצד השותפים שלה בישראל, צרפת, פולין ובלגיה, אלנט גרמניה מעודדת את היחסים בין מקבלי החלטות באירופה ובישראל ובונה רשת בעזרת תוכניות הדיאלוג והמשלחות שלה.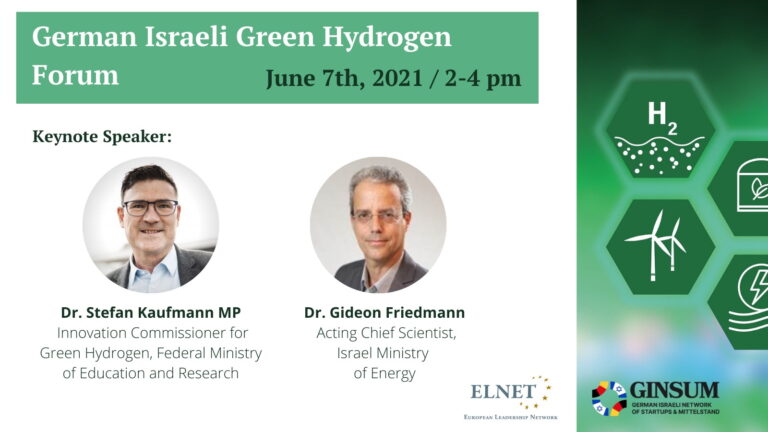 Green hydrogen can play a central role in tackling the emerging climate crisis. With this in mind, ELNET Germany organized the first German Israeli Green Hydrogen Forum.
Read More »