מבין מדינות המזרח התיכון, ישראל היא השותפה המסחרית השלישית בגודלה באירופה, וביצועיה הכלכליים הם מבין החזקים ביותר בין מדינות ה-OECD. כמו כן, ישראל היא שחקנית פוליטית וביטחונית מרכזית במזרח התיכון ובאגן הים התיכון. לכן, אירופה וישראל חולקות אינטרסים אסטרטגיים חשובים, כולל מאבק בטרור, יציבות אזורית, שיתוף פעולה אזורי ושלום. שיתוף הפעולה עם אירופה הוא רחב היקף, ונוגע בתחומים כמו אבטחת סייבר, מאבק בטרור, חקלאות, מים וביטחון תזונתי, חדשנות וכן גילוי הגז במזרח הים התיכון אשר יצר הזדמנויות חדשות לשיתוף פעולה.
שיתוף פעולה בתחומי המדע מהווה מרכיב חיוני ביחסים בין ישראל ואירופה. מוסדות אקדמיים ישראלים ואירופאיים, מדורגים מדי שנה בין החדשניים ביותר בעולם. עם שיעור מימון מו"פ גבוהים ומספר שיא של חברות סטארט-אפ, ישראל מהווה מוקד מרכזי למדע וחדשנות. שיתוף הפעולה המדעי תרם לפריצות דרך מחקריות במספר תחומים, כמו השקיה חכמה, טיפול חדשני במחלת הסרטן ורובוטיקה. 
אירופה וישראל חולקות ערכים ואינטרסים אסטרטגיים משותפים, ונהנות מיחסים כלכליים חזקים, זאת על אף חילוקי הדעות הפוליטיים. המשימה של אלנט היא לחזק את ההבנה ההדדית של ערכים ואינטרסים המשותפים הללו. 
המשרד של אלנט בישראל מרכז את פעילות הארגון, ומקיים משלחות ודיאלוגים בשיתוף פעולה עם המשרדים של אלנט באירופה וארגון ידידי אלנט בארה"ב. בנוסף, המשרד הישראלי אחראי על פיתוח קשרים חזקים עם מקבלי ההחלטות בישראל, מוסדות מחקר, אנשי עסקים ומנהיגים בחברה האזרחית בישראל. המשרד מנוהל ע"י ועד בינלאומי, בהנהגתו של שי בזק, דיפלומט ישראלי לשעבר. אלנט בישראל מחזקת את הקשרים בין ישראל ואירופה ומעלה את המודעות בקרב קובעי מדיניות בישראל בעניין חשיבות חיזוק היחסים עם אירופה.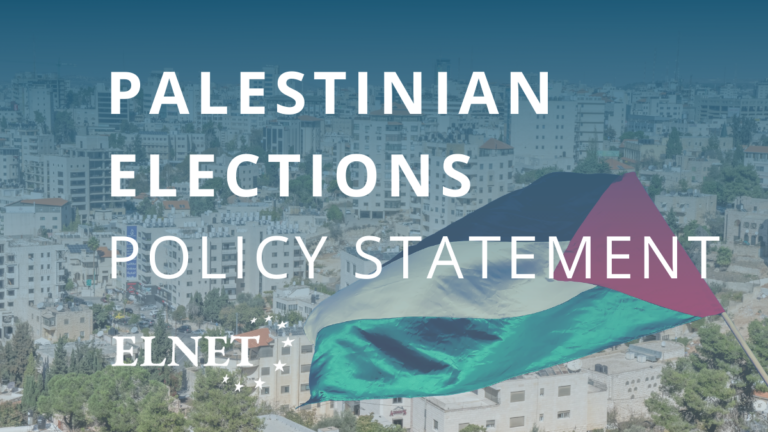 Ahead of elections to the Palestinian Legislative Council scheduled for 22 May, ELNET calls on the EU and European governments to clarify their position on incorporating Hamas into a future Palestinian power-sharing arrangement.
Read More »