פולין היא מדינה חשובה במזרח אירופה, בעלת גודל אוכלוסייה ותמ"ג השווים לכל השכנות שלה במזרח אירופה יחדיו. הצמיחה הכלכלית שלה היא מהמהירות באיחוד האירופי. פולין היא חלק מקבוצת וישגרד, ברית פוליטית בין פולין, הונגריה, סלובקיה וצ'כיה. מדינות אלה מרכיבות גוש הצבעות חשוב במוסדות האירופאיים. כמו כן, הקשרים בין ישראל ומזרח אירופה ממשיכים לצמוח פוליטית וכלכלית.
ההיסטוריה הכאובה של השואה עדיין נותנת את אותותיה בקשרים הדו-צדדיים בין ישראל ופולין, כולל המחלוקת האחרונה בנושא חוק השואה הפולני. בשנים האחרונות, הקשרים בין הצדדים התחזקו, ואף התרבות היהודית בפולין החלה לפרוח מחדש. ישראלים רבים וכן קהילות יהודיות ברחבי העולם מתחקים אחר שורשיהם בפולין, ונוסעים לשם כדי להשתתף בתוכניות חינוכיות.
ישראל ופולין חולקות אינטרסים אסטרטגיים מהותיים משותפים, כולל היחסים הקרובים עם ארה"ב ועניינים ביטחוניים חוצי גבולות. הבנה משותפת זו, הביאה לשיתוף פעולה קרוב בנושאי ביטחון, שיתוף מודיעיני, אימונים צבאיים משותפים וחילופי טכנולוגיה ומומחיות.
יחסי המסחר בין שתי המדינות התחזקו במהרה, והסתכמו בכמיליארד דולר בשנת-2019. כיום, יותר ויותר חברות ישראליות ומשקיעים ישראלים פעילים בשוק הפולני, וחברות פולניות יוצרות שותפויות עם מגזר ההיי-טק הישראלי.
המשרד של אלנט בפולין הוקם בשנת-2014. משרד זה מארגן משלחות בכירים ושיתופי פעולה עם הוועידה לביטחון בפולין (Warsaw Security Forum), המביאה מומחים ואנשי ציבור בכירים מישראל לוועידה. המשרד בפולין מממן את הדיאלוגים האסטרטגיים השנתיים בין ישראל ופולין, בשיתוף פעולה עם לשכת ההגנה הלאומית של נשיא פולין.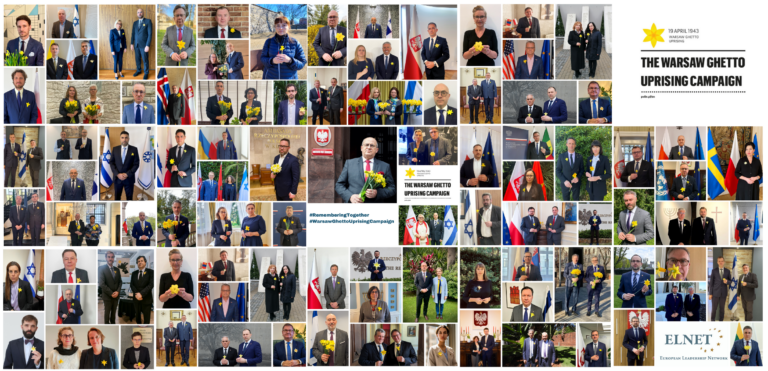 Polish and Israeli diplomats around the world came together to commemorate the 80th anniversary of the Warsaw Ghetto Uprising. ELNET led to their inclusion by inviting the Foreign Ministries of both Poland and Israel to join the Daffodil Campaign of the POLIN Museum.
Read More »