צרפת היא שחקנית גלובלית חשובה בעלת השפעה במוסדות בינלאומיים, כגון מועצת הביטחון של האו"ם, נאט"ו וה- G7. צרפת היא מעצמה צבאית וגרעינית מובילה, עם הרשת הדיפלומטית השנייה בגודלה בעולם. צרפת דומיננטית מאוד באירופה, בעיקר מבחינה כלכלית ופוליטית, ויש לה קשרים היסטוריים ופוליטיים משמעותיים עם המזרח התיכון.
היחסים הפוליטיים בין צרפת וישראל חזקים, זאת למרות חילוקי הדעות הקיימים, בעיקר בנושא הפלשתינאי. לשתי המדינות קשרים חזקים בתחום הביטחון ובתחום המודיעין, ויש להן עניין משותף בקידום שיתוף פעולה כלכלי. המסחר הדו-צדדי בין המדינות הסתכם ב-3.6 מיליון דולר ב-2019, ויש לו פוטנציאל צמיחה משמעותי. הכלכלה הצרפתית היא השנייה בגודלה באירופה והיא מעוניינת להנות מהחדשנות הישראלית, ומנגד חברות ישראליות יכולות להפיק תועלת רבה מגישה קלה יותר לשוק הצרפתי. הקרבה הגאו-פוליטית והקשרים התרבותיים משחקים תפקיד משמעותי, שכן לצרפת יש את הקהילה היהודית הגדולה באירופה, ובישראל יש קהילה צרפתית מהגדולות בעולם. בישראל מתגוררים כ- 700,000 דוברי צרפתית, כלומר כמעט 8% מהאוכלוסייה.
למדיניות החוץ של צרפת קיימת השפעה מהותית על ישראל. כשותפה מרכזית ב-P5+1, לצרפת תפקיד דיפלומטי חשוב בניסיון למנוע את ההתחמשות הגרעינית של איראן. צרפת היא זו שהביאה לכך שהזרוע הצבאית של החיזבאללה תיכלל ברשימת ארגוני הטרור של האו"ם. כמו כן, לצרפת תפקיד חשוב בלבנון, במיוחד באמצעות כוח האו"ם הזמני בלבנון (UNIFIL).
צרפת וישראל חולקות אינטרסים חשובים במזרח התיכון, כולל מאבק בטרור, יציבות, שיתוף פעולה אזורי ושלום. עתידה של סוריה, הסכסוך הישראלי-פלשתיני ונוכחותם של איראן ורוסיה באזור, אלו נושאים עיקריים בדיון בין שתי הארצות.
המשרד של אלנט בצרפת הוקם ב-2010 בעיר הבירה פריז. המשרד מנוהל על ידי ועד חזק המורכב ממנהיגים פוליטיים ועסקיים בצרפת. מנכ"ל המשרד, אריה בן-שמחון,  הוא המנהל הוותיק ביותר ב-אלנט. המשרד עוסק בעיקר ביחסים עם פוליטיקאים ואנשי ציבור בכירים, מוסדות מחקר, אנשי עסקים ומשפיעי דעה דרך משלחות, דיאלוגים אסטרטגיים, חוקרי מדיניות ועיתונאים.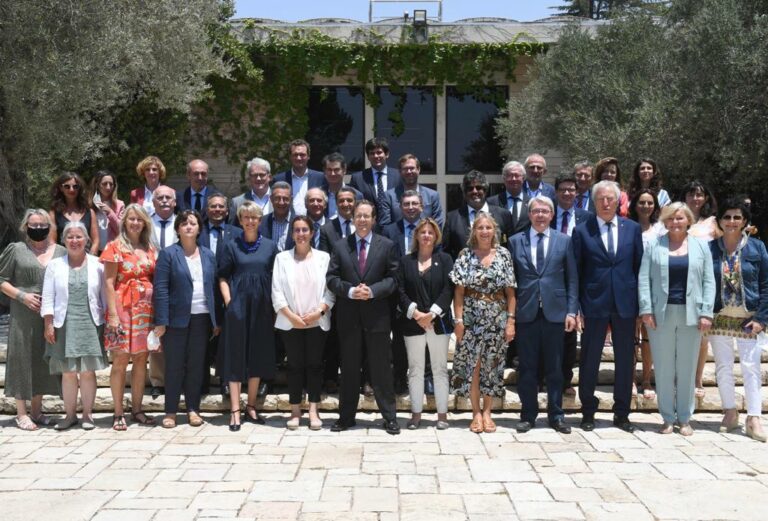 ELNET recently hosted the largest diplomatic delegation to arrive in Israel since the COVID-19 outbreak. The ELNET delegation was the first to meet with Israel's new political elite.
Read More »