The European Leadership Network, ELNET's Forum of Strategic Dialogue (FSD), and The Federal Academy for Security Policy (BAKS), in partnership with the Bundeswehr Cyber Innovation Hub (CIHBw) gathered 29 senior policymakers and experts from Germany and Israel to discuss: the German-Israeli relationship after the Russian invasion of Ukraine; the Abraham Accords – new alliances in the region; and Iran and its proxies. The discussions were conducted strictly under the Chatham House Rule.
Keynote speakers included MK Alon Schuster, Israel's Deputy Defense Minister and Amb. Steffen Seibert, German Ambassador to Israel.
The dialogue was chaired by Maj. Gen. (ret.) Amos Yadlin, Chair, ELNET's Forum of Strategic Dialogue; Senior Fellow, Harvard Kennedy School Belfer Center; former Head of Israel's Military Intelligence; former Director, INSS. Participants included senior officials from the German and Israeli ministries of foreign affairs, the Israel Defense Forces, Israel's National Security Council, and Prime Minister's Office, as well as politicians, former officials, experts, journalists, and civil society representatives from Germany and Israel.
After the dialogue, we organized a fourth session on innovation and defense with the German participants; Yigal Unna, former Director General, Israel National Cyber Directorate (INCD); and Eli Friedman, Vice President Innovation, Elbit Systems Ltd, as well as a visit to Israel Aerospace Industries (IAI) HQ. The Germans were very interested to learn that the Israeli Ministry of Defense developed a fast-track for cooperation with start-ups to smoothen lengthy procurement processes. There is still a lot of room for improvement in Germany to develop a partnership on an equal footing between the public and private sectors, where both effectively complement and benefit from each other.
Below is a summary of the topics addressed:
The German-Israeli relationship after the Russian invasion of Ukraine
The German "Zeitenwende" marks a transformation in German strategic thinking. This includes a commitment to invest in hard power, reduce dependencies, and strengthen Germany as an actor other Europeans rely on for their security. Some are skeptical that German anti-militarism can easily be overcome and anticipate tough tests for German leaders in the coming months amid economic headwinds and energy shortages. Whilst Germans emphasize the need for a full Russian withdrawal from Ukraine, some observe compromising tones among Western leaders.
In the changed security landscape, the historic Israeli dependence on Germany for economic support and certain military equipment is shifting to a more reciprocal relationship in which Germany looks to Israel for proven military technology. Especially significant is the German plan to acquire Israel's Arrow 3 missile interception system to defend not only German airspace but also that of European allies.
However, there are questions regarding the future of the relationship. Differences over the Israeli-Palestinian conflict will likely be exacerbated under the new Israeli government. Shifting attitudes towards historical memory in Germany are also a source of concern. In addition, there is still a perception among Germans of Israel tending towards neutrality on Ukraine, and a question over Israel's broader alignment with Western values, especially under the new coalition.
The Abraham Accords – new alliances in the region
The Abraham Accords continue to transform the region, creating opportunities for Israel to adopt some of the European strategic culture of peace through integration. Alongside deepening relations with UAE, Bahrain and Morocco, the accords have helped reinvigorate relations with Egypt and Jordan. However, the policies of the incoming Israeli coalition could endanger these relationships.
The development of Israeli-Arab relations creates new opportunities for Germany and Europe, including new potential renewable energy sources from the Middle East and new trade infrastructure.
The marginalization of the Palestinians in the normalization process remains an enduring concern for many Germans. Meanwhile, some Israelis perceive Europeans in general to have been lukewarm towards the agreements and call for more vocal support and active engagement, arguing that the new atmosphere can also be leveraged to the benefit of Palestinians.
Iran and its proxies
Whilst preventing Iran from acquiring nuclear weapons remains a clear shared goal, with a return to the JCPOA a diminishing prospect, there is a gaping policy vacuum. Israelis insist a military option is viable and needs to be on the table, alongside EU support for maximum pressure through sanctions.
Germans are sensitive to negotiating with Iran in the context of the current crackdown on protests, which also raise questions about the future stability of the regime.
Conclusions and Recommendations
✓ War and energy crisis in Europe, coupled with new avenues for Israeli-Arab cooperation, increase the overlap of shared strategic interests and opportunities between Israel and Germany, and create the potential for a significant new role for Israel in European defense (especially missile defense), and energy supplies. The governments should build on these opportunities and the success of the March 2022 agreement set out to establish a framework for a ministerial strategic dialogue between Germany and Israel, and the first-ever such Strategic Dialogue in September 2022.
✓ The incoming Israeli government needs to be aware of the questions it faces about its commitment to the Western liberal camp on the Ukraine war, and the significance of the "shared values" pillar of the Israeli-German relationship. It should also be aware of the enduring importance of the Israeli-Palestinian conflict for the perception of Israel in Europe.
✓ The German political culture of historic responsibility for Israeli security requires ongoing nurturing, including through people-to-people projects, especially among young people.
✓ There is scope for more German involvement in promoting relations between Israel and Arab states, including people-to-people links, especially among young leadership.
✓ There is an urgent need to address the policy vacuum regarding the Iranian nuclear program. With hopes for a diplomatic agreement waning, there is a need for a shared agenda on the use of economic and military tools.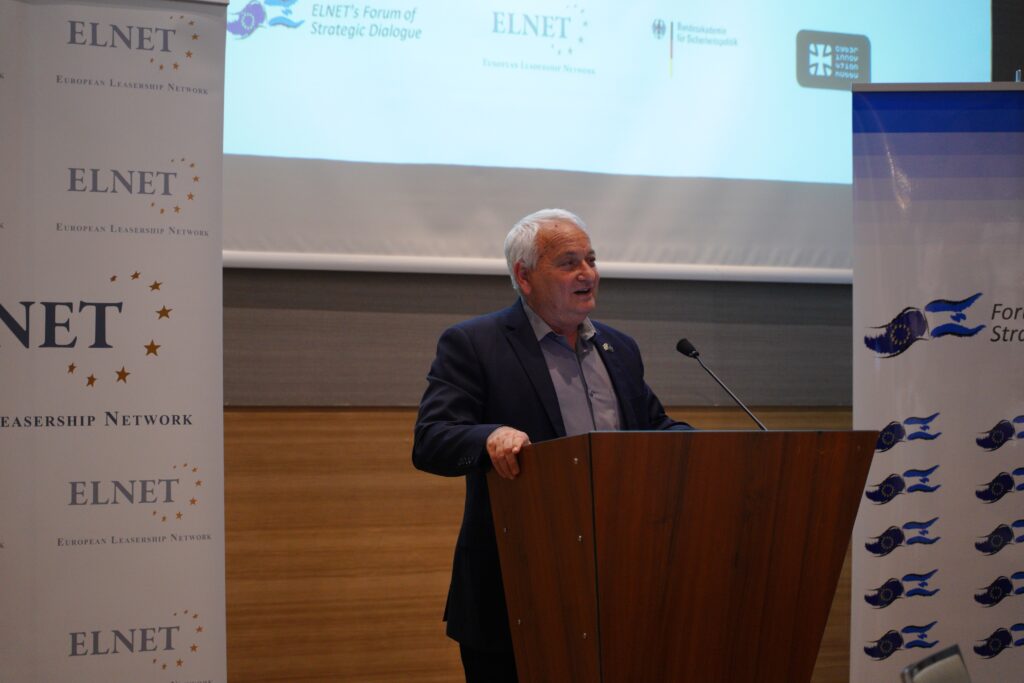 Strategic Dialogues offer the opportunity for parliamentarians, opinion formers and academics to engage and share knowledge on some of the most important challenges facing Europe and Israel and indeed globally. Discussions are of great value, candid and held under Chatham House rules.