Russia's war on Ukraine forced millions to flee their homes, including more than 6 million refugees who escaped to neighboring countries. Over 2.5 million refugees, including 500,000 children, found shelter in Poland, with many suffering from severe trauma.
In response, ELNET partnered with leading Israeli trauma experts to create a comprehensive trauma and PTSD prevention program to train first responders and emergency workers in Central and Eastern European countries.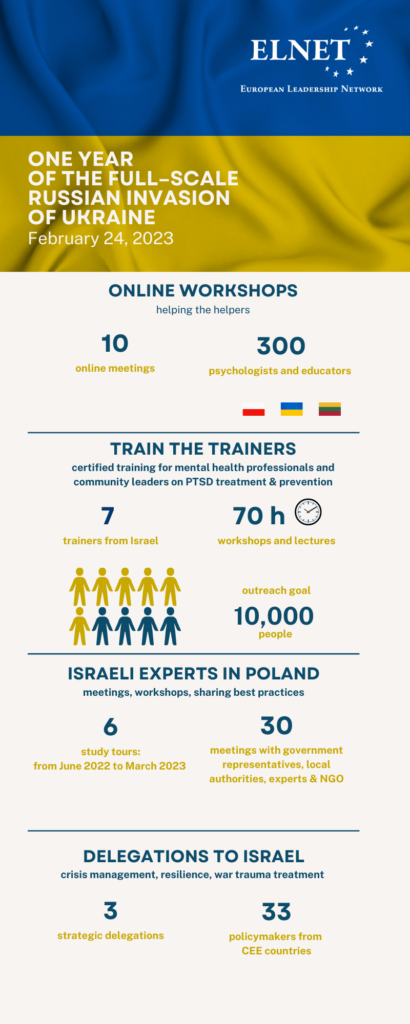 In April 2022 we launched intensive online training seminars for more than 300 psychologists, first responders, and officials from Ukraine, Poland, and Lithuania. The trainings were held by world class Israeli specialists from the RAMBAM Health Care Campus.
In May 2022 we brought an emergency delegation of 10 high level policymakers from Poland and the Baltic States to Israel. The delegation was focused on 4 pillars in which Israel has extensive practical experience: crisis management, border security, cybersecurity, and PTSD prevention and treatment. The Baltic countries and Poland see Israel as a model for their own efforts to defend infrastructure, protect civilians, and keep vital systems functioning in the face of a possible Russian assault.
In June 2022 two Israeli experts, Prof. Eyal Fruchter and Dr. Gila Matzliah-Liberman, visited Poland to conduct training seminars, brief national and municipal officials, and create a long-term program for trauma treatment and PTSD prevention. Their visit is documented in the short film 'We're in This Together', which illustrates the importance of solidarity and mutual aid amid an unprecedented refugee crisis. Watch the trailer here: https://youtu.be/t7YLgtdUbI4 .
In October 2022 we partnered with the Israel Community Stress Prevention Center and the Maria Grzegorzewska University in Warsaw to create a 5-month long 'Train the Trainer' program for 85 Polish and Ukrainian mental health professionals, educators, and community leaders. Sharing Israeli know-how and expertise in the field of PTSD prevention is especially important during the ongoing war, as millions of Ukrainians seek refuge in Poland and other CEE countries. The course will benefit thousands of people suffering from PTSD, the volunteers who provide assistance to the refugees, and the helpers facing secondary traumatization and compassion fatigue.
In January 2023 we hosted the first-ever delegation of MPs from the Polish-Israel Parliamentary Friendship Group in Israel. The Polish lawmakers met with President Herzog and their counterparts in the Knesset in an effort to reinstate warm diplomatic ties between the countries and reestablish the Polish-Israel Friendship of the Knesset. Additionally, the MPs had the opportunity to observe advanced Israeli preparedness protocols and discuss training top-level hospital staff for mass casualty events.
In February 2023 we brought our first-ever Czech MP delegation to Israel. The goal of their visit was to meet with Israel's top experts on resilience-building and to share best practices for crisis situations.
Our goal is to raise public awareness about mental resilience and to promote innovative crisis management solutions, including protecting strategic resources and providing support to civilians, based on best practices developed by Israeli experts and institutions.
We believe that the exchange of know-how between Israel and CEE countries will strengthen diplomatic ties and improve the lives of Ukrainian refugees in Europe and the people involved in supporting them, while increasing the resilience of European society in the face of the cruel and unjust war being waged across the EU's eastern border.