ELNET's Forum of Strategic Dialogue (FSD) together with the ELNET-CEE regional office hosted the first Central and Eastern Europe (CEE)-Israel Strategic Dialogue, which took place on 8 June 2023. The dialogue brought together senior policymakers and experts from Israel and across CEE, including Poland, Czech Republic, Lithuania, Latvia, Estonia, Romania, Slovakia, and Ukraine. The dialogue was the concluding event of a week-long ELNET delegation to Israel.
The dialogue addressed: the war in Ukraine and its aftermath; crisis management and resilience; and protecting critical infrastructure and strategic resources. The discussions were conducted strictly under the Chatham House Rule.
The dialogue concluded with a special dinner hosted by the Czech Embassy in Tel Aviv, with keynote speeches by Adviser to the President of the Republic of Lithuania Rima Malakauskienė, and Senior Foreign Policy Advisor to the President of Israel Amb. Zvi Vapni.
The dialogue was chaired by Maj. Gen. (ret.) Amos Yadlin, Chair, ELNET's Forum of Strategic Dialogue; former Head of Israel's Military Intelligence; former Director of the INSS. Participants included ambassadors of several CEE countries to Israel, senior officials from CEE and Israeli ministries of foreign affairs and defense, the Israel Defense Forces, Israel's National Security Council, and Prime Minister's Office, politicians, as well as former officials, experts, journalists, and civil society representatives from CEE and Israel.
Below is a summary of the topics addressed:
The war in Ukraine and its aftermath
Central and Eastern Europe (CEE) states; placed the CEE region at the heart of the EU and NATO security agenda; and underlined the region's wider strategic significance in food and energy security, including for the Middle East.

The rise of defense and security on the agenda of CEE countries creates new scope for

cooperation with Israel as a supplier of expertise and experience in defense doctrines, concepts and technology and national resilience.

CEE observers question the extent of the Israeli government's commitment to Ukraine, with some expressing frank disappointment.
Most Israeli participants insisted that Israel supports Ukraine, yet stress that Israel must calibrate its support due to the Russian presence in Syria and concern for Russian Jews.
Some Israelis argue that Israel ought to show a more unequivocal alignment with the Western camp in support of Ukraine and should be prepared to supply defensive military equipment and intelligence.
There remains a broader international debate about how to end the war. Some seek a comprehensive Russian defeat, whilst others doubt the military viability of that outcome and fear pushing Putin to consider using tactical nuclear weapons. Whatever territory Ukraine succeeds in recovering, a central question is how to provide credible security guarantees to Ukraine and deter Russia from future aggression.
Crisis management and resilience
The war in Ukraine has focused attention on crisis readiness within CEE countries.
Israel has broad experience of crisis management to share based on its military experience and high levels of preparedness for natural disasters.
The Ukrainian civilian response to the war and Russia's failure to bring about a Ukrainian social collapse provide important lessons for Israel and CEE states.
Lessons are also to be derived from Ukraine's highly effective use of internal and external communication in wartime.
Protecting critical infrastructure and strategic resources
CEE representatives highlight the need for long term strategies to resist Russia's bid for hegemony in the Black Sea, including Russian 'grey zone' activities, with the war in Ukraine highlighting the region's wider importance in food and energy security.
NATO can be expected to build its presence in the Black Sea including naval, air force and anti-ship capabilities.
In Ukraine itself Russia has made no distinction between military and civilian infrastructure and acted with little concern for collateral damage to other states.
The war in Ukraine indicates that cyber-attacks on infrastructure are not yet a decisive weapon of war.
The ability to withstand threats to infrastructure is enhanced by regional cooperation.
Conclusions and Recommendations
✓ Israeli policy makers need to consider the long-term reputational implications of the perception that Jerusalem is equivocal in its support for Ukraine, and consider whether its concerns regarding a Russian backlash if it goes further in support of Ukraine are justified. There is considerable scope for Israel to expand support to Ukraine, including defensive military equipment and intelligence.
✓ There is a need for NATO members and likeminded allies to develop a more coherent position on how to end the conflict; how to offer credible security guarantees to Ukraine and other non-NATO members; and how to ensure that Russia is deterred from future aggression.
✓ There is an expanding scope of issues where Israel and CEE countries can cooperate based on an increasing overlap of national security threats. Focal points for potential cooperation include defense and security procurements and training; honing crisis preparations and management systems; and learning lessons from the Ukraine battlefield.
✓ Israel and CEE states should examine lessons from Ukrainian resilience to see how they can be incorporated into their war and crisis planning. This includes the active contribution of civilians to the war effort as "smartphone militias"; a culture of self-reliance and initiative in regional government; the ability to cope with assaults on civilian infrastructure; and the importance of trust in national leadership.
✓ Ukraine also offers valuable lessons in the information war, including the Zelensky government's mastery of both domestic and international communications for the smartphone age; and effective working with traditional media including embedding foreign media in their military.
✓ Israel and CEE states should promote infrastructure connectivity with likeminded regional allies to enhance resilience to attacks.
✓ Greater attention is warranted by NATO and likeminded allies on the long-term security of the Black Sea given the Russian potential to destabilize a region that has wide strategic significance. This includes bolstering the resilience of states in the region to Russian threats and influence.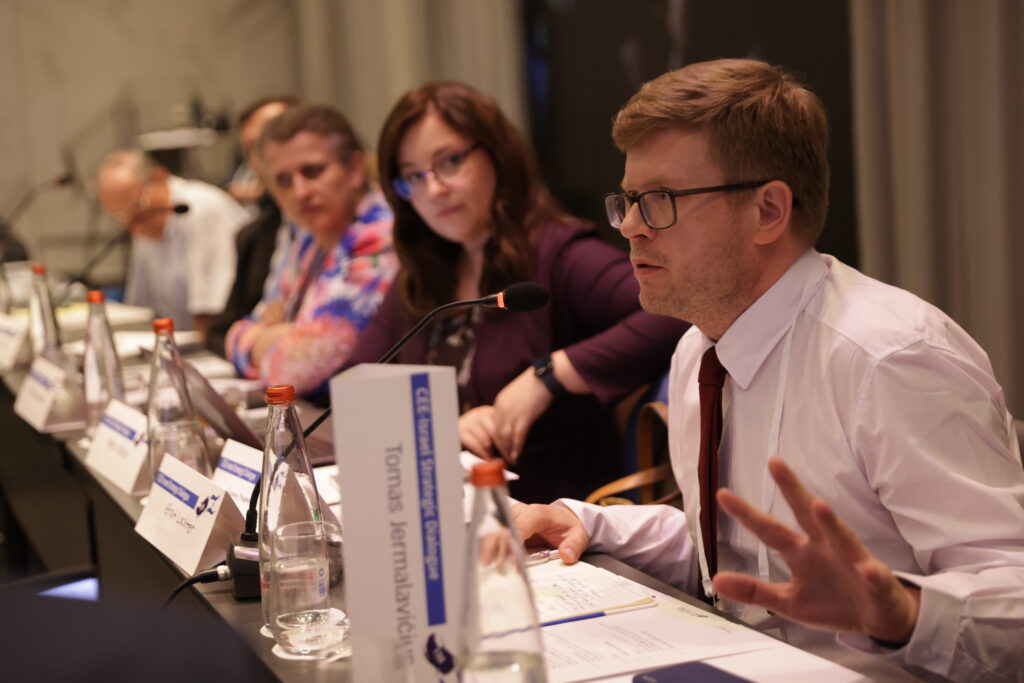 Strategic Dialogues offer the opportunity for parliamentarians, opinion formers and academics to engage and share knowledge on some of the most important challenges facing Europe and Israel and indeed globally. Discussions are of great value, candid and held under Chatham House rules.