To learn more about our affiliates' work please choose from the links below.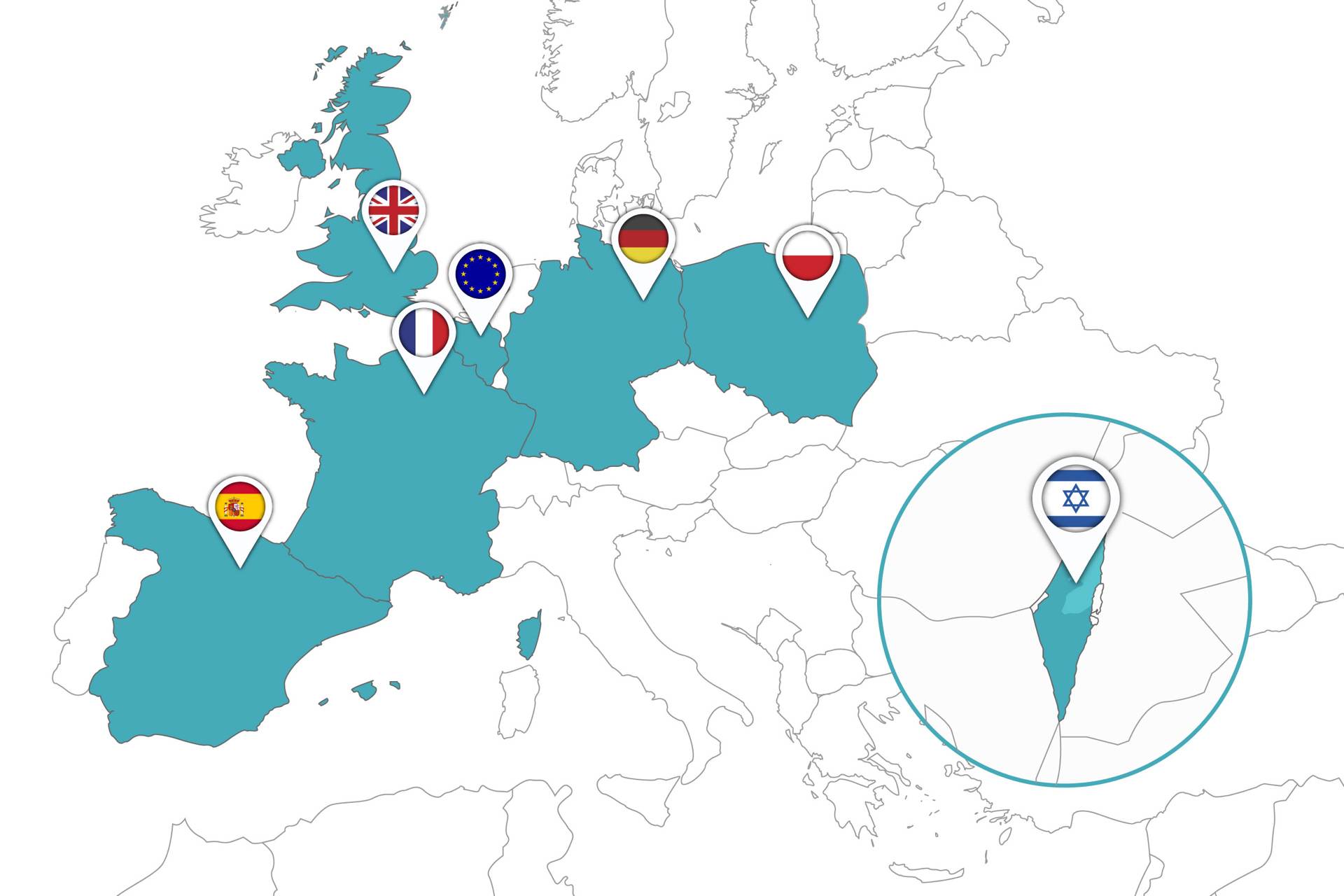 Germany
ELNET Germany works across the entire political spectrum to foster and develop Germany-Israel relations through strategic meetings, educational seminars, and delegations in both Germany and Israel.
Poland
ELNET Poland works locally to strengthen Poland-Israel cooperation, and hosts delegations of key elected officials, dealing with foreign and security affairs to Israel and Poland.
EU &
NATO
ELNET EU & NATO organizes seminars, strategic dialogues, study visits and roundtables bringing together Israeli and EU political leaders around issues of critical importance to both.
U.K.
Forum of Strategic Dialogue, part of ELNET network, along with Chatham House, organizes annual UK-Israel Strategic Dialogues bringing together policy makers and experts for a strategic discussion on shared challenges and opportunities.
France
ELNET France provides in-depth expertise and opportunities to French experts and decision-makers through publications, educational seminars and study visits to Israel in various specialized fields.
Spain
ELNET organizes study visits and delegations to Israel for a broad spectrum of Spanish decision-makers, officials and experts.
Israel
ELNET Israel provides broad opportunities for Israeli decision makers and opinion leaders to engage in a frank and open dialogue with their European counterparts, while locally supporting the work of the entire ELNET network.
ELNET was founded in 2007 as a non-profit organization dedicated to strengthening relations between Europe and Israel based on shared democratic values and strategic interests.

The Forum of Strategic Dialogue (FSD) is an informal platform that facilitates high-level strategic discussions between Europe and Israel, beyond the constraints of formal inter-governmental relations. As part of our network, the FSD encourages senior officials and leading experts to develop breakthrough ideas which enhance bilateral cooperation and key relationships. Today, the FSD hosts annual Dialogues between Israel and key European countries: France, Germany, the United Kingdom, Spain and Poland, as well as with the European Union (EU). The FSD also launched the first US-Europe-Israel Trilateral Strategic Dialogue in 2018 and hosted a NATO-Israel Cooperation Event in 2014.