This June 27 to 29, ELNET EU & NATO was a partner of the Brussels Forum for the fourth year in a row. The Brussels Forum is an annual high-level meeting of the most influential North American and European political, corporate, and intellectual leaders to address pressing challenges currently facing both sides of the Atlantic and is organized by the German Marshall Fund of the United States (GMF US) with around 400 participants. Under this year's theme, "A World Disrupted," the agenda tackled new geopolitical challenges, democracies under distress, climate change and the changing transatlantic relationship. Moreover, this year's conference featured, among many other notable guests, High Representative of the European Union for Foreign and Security Policy Federica Mogherini, the Minister of Foreign Affairs of Poland Jacek Czaputowicz and the Secretary General of NATO Jens Stoltenberg.
ELNET EU & NATO brought Israeli speakers Member of Knesset (MK) Yoaz Hendel of the 'Blue and White' party and Maj. Gen. (ret.) Amos Yadlin, Executive Director of the Institute for National Security Studies (INSS) to the Brussels Forum. Hereby, ELNET brought Israeli perspectives on the Middle East, US-EU relations and the disruptive and destabilizing role of Iran in the region.
The Brussels Forum opened on Thursday with a 1:1 talk with HR/VP Mogherini and German EU ARD journalist Markus Preiss. She discussed her five-year mandate in retrospective stating the permanent structured cooperation (PESCO) on defense in late 2017 as her biggest success. HR/VP Mogherini also addressed the Iran issue in particular by underlining the importance of a united European Union Foreign Policy approach.
On Friday evening, the ELNET dinner gathered around 25 participants on the topic "Dealing with Iran." In view of recent statements and developments in the region, the dinner on Iran could not have been timelier. The E3 +2 (Russia, China, Britain, Germany, France) and the EU also met on that Friday morning in Vienna to discuss the progress on the JCPOA and Iran's demand to deliver on the economic component of the agreement.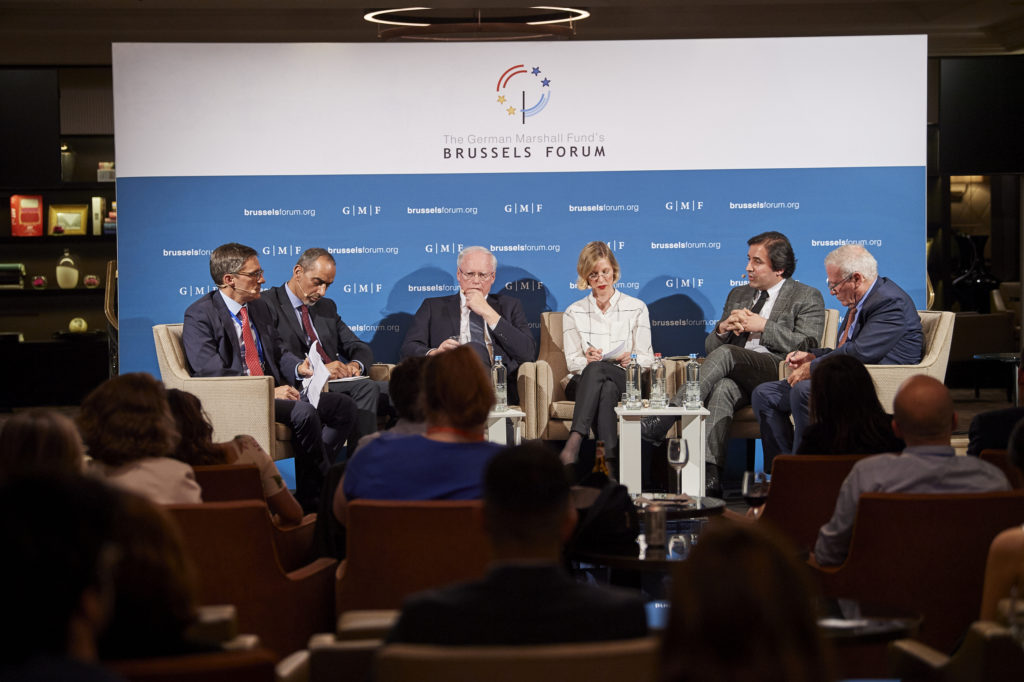 The evening continued with a Night-Owl with Maj. Gen. (ret.) Yadlin who (before his current appointment) served as the IDF's Chief of Military Intelligence from 2006-2010 and as the IDF attaché to the United States prior to that. Maj. Gen. Yadlin discussed the topic of "What if? In search of a new security leadership for the Middle East?" and was faced with potential scenarios like dealing with an Iranian military strike and other regional challenges.
The sessions disclosed that some European member states and EU Foreign Policy in general might need more tools and leverage in the future. The discussions led to the conclusion by some that EU Foreign Policy is dominated by tools such as sanctions, diplomacy, multilateral arrangements (e.g. Quartet format) and confidence building. Yet, these instruments might not always be enough in the current complex and challenging times.