For the sixth consecutive year, the European Leadership Network (ELNET) and the Forum of Strategic Dialogue (FSD) hosted a special Roundtable session entitled "Europe facing political and identity crises. What is it to Israel?" at the prestigious 19th Herzliya Conference, in partnership with the Interdisciplinary Center (IDC) Herzliya.
The Herzliya Conference is one of Israel's foremost annual policy gatherings. It draws Israeli and international participants from high levels of government, policy, business, and academic circles to address pressing national, regional and global issues.
This year, the conference included the participation of internationally renowned public figures such as Hon. John C. Rood, US Under Secretary of Defense for Policy; Hon. Elan Carr, US Special Envoy to Monitor and Combat Anti-Semitism, State Department; Hon. Jason D. Greenblatt, Assistant to the 45th President of the US & Special Representative for International Negotiations, the White House; Annegret Kramp-Karrenbauer (AKK), Chairwoman, Christian-Democratic Union (CDU), Germany; HE Amb. Susanna Terstal, EU Special Representative for the Middle East Peace Process; Israel Katz, Israel's Minister of Foreign Affairs and Intelligence; Yossi Cohen, Director of the Mossad; and Lt. Gen. (res.) Benjamin Gantz, Blue and White's candidate for Prime Minister.
For the full Conference program, please click here.
The ELNET Roundtable session featured 12 carefully selected speakers from across Europe, the US, and Israel, and attracted around 90 figures involved in the European-Israeli arena. It garnered the highest attendance to date in ELNET's roundtables and was the best attended of all the roundtables at the Conference. The impressive group of speakers included Amb. Dr. Emanuele Giaufret, Head, Delegation of European Union to the State of Israel; Dr. Kenneth R. Weinstein, President and Chief Executive Officer, Hudson Institute; Amb. Avi Pazner, former Israeli Ambassador to France and Italy; and Ariel Shafransky, Director, Multilateral European Organizations Department, Europe Division, Israel's Ministry of Foreign Affairs (MFA). The Roundtable attracted the ambassadors of France, Poland, Sweden, Denmark, Austria, Hungary, and Croatia.
A delegation of German and French journalists hosted by ELNET also attended the Roundtable.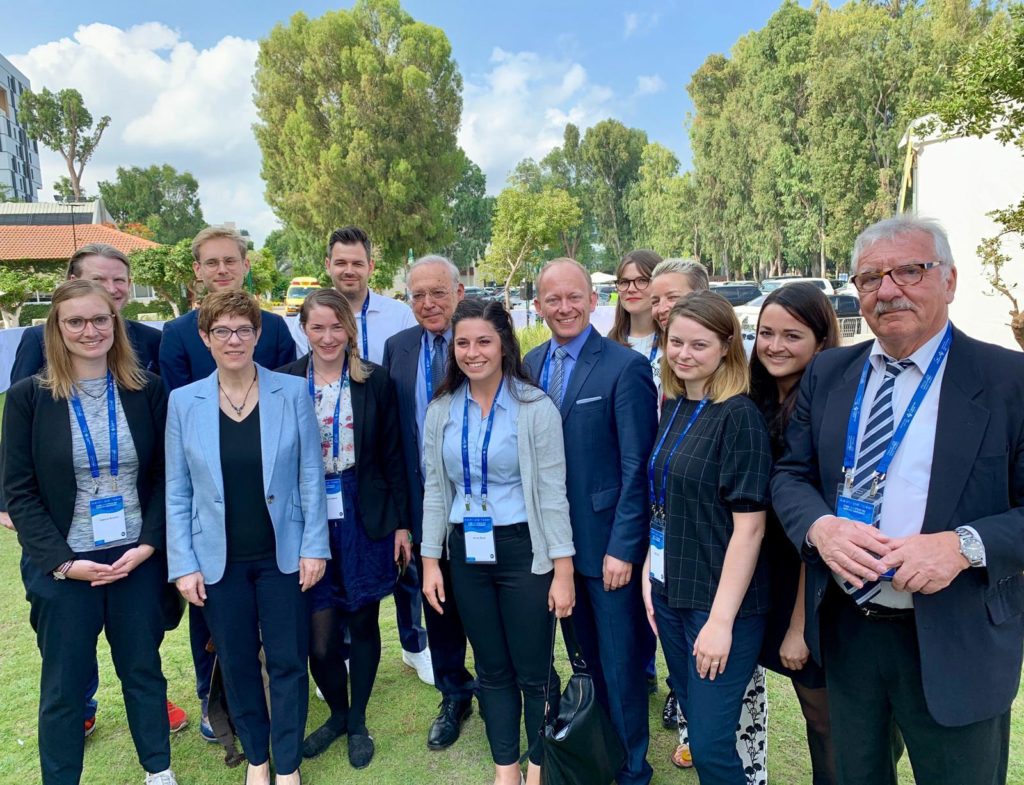 In the first part of the Roundtable, speakers shared their analysis of the political and identity crises challenging Europe. Today's liberal democracies in Europe are under pressure. We witness a rise of nationalism, populism, and illiberalism, often portraying racist, xenophobic or antisemitic undertones, both on the right and the left. These trends are fueled among other things by economic and migration pressures. All over Europe, traditional parties are losing ground. French President Macron redefined the traditional right and left in France, and has been holding "the great debate," namely town-hall-style meetings throughout the country, in response to the yellow vest protest movement. In Germany, the far-right Alternative for Germany (AfD), has become a gamechanger in federal and state politics. The UK is on the verge of Brexiting and challenged by antisemitism, especially in the Labor party. At the EU level, the recent Parliament elections saw a rise of liberals and greens, as well as of populists, although less than predicted.
Key takeaways included:
One of the primary sources for the crises is that Europe lost its ability to define the "common good." However, past the peak of migration pressures and the Brexit decision, the EU seems to have overcome the existential dimension of its crisis.
The many challenges Europe faces are internal divisions within Europe between east and west, as well as north and south; the failure of politics and integration; economic and migration pressures; terrorism, extremism, Islamism, rising antisemitism and BDS; and climate change.
Looking forward, some argued for the EU to strive to enhance European identity by further integrating. Others recommended focussing on maintaining distinct national entities and identities as subsidiaries under a common European umbrella. In any case, the EU and European governments should pay more attention to the concerns of their citizens.
In the second part of the Roundtable, speakers presented their outlook on the implications for Israel.
Key takeaways included:
For a variety of reasons, Europe's importance in the eyes of Israeli decision-makers has been gradually decreasing. Disagreements on the Israeli-Palestinian conflict, and more recently Iran, too often overshadow bilateral relations.
Israel is taking advantage of EU internal divisions in pursuit of its national interests like any other European country does and would do. However, Israel shouldn't go too far fostering relations with pro-Russia countries and parties, or with parties carrying antisemitic elements.
Given the picture portrayed in the first session, dealing with Europe has become more complicated for Israel. On the European center-right, Israel needs to distinguish between genuine pro-Israel stances and others that want to use Israel to whitewash their racist/xenophobic characteristics.
Rising antisemitism and BDS in Europe are important issues for Israel. More has to be done to fight these issues, which should be part of an ongoing dialogue between Europe and Israel.
The EU and Israel need to find a formula to move their bilateral relationship forward notwithstanding their differences. The way to do is by focusing more on shared interests.