In June 2019, ELNET hosted in Israel an exceptional delegation of 40 young Belgian and French Muslim leaders and activists. The overall purpose of the visit, organized by ELNET France and led by the President of the Conference of Imams of France Hassan Chalghoumi, was to provide the delegation with a stronger understanding of Israel and to foster inter religious dialogue and collaboration.
Imam Chalghoumi has been actively involved in interfaith work and combating extremism following a series of Islamist terrorist attacks in Belgium and France that started in 2012.
For a week, the group discovered Israel, its people and diversity, meeting civil society and political leaders, as well as representatives of different religious communities.The group was received by the President of the State of Israel, Reuven Rivlin, as well as Minister of Communications, Ayoob Kara, and Knesset members Eli Avidar and Omer Yankelevich. The delegation has met with IDF Spokesperson Brig. Gen. Ronen Manelis, Jewish, Christian, Muslim and Druze leaders, journalists and enterprenours, and visited Israel's northern and Gaza borders.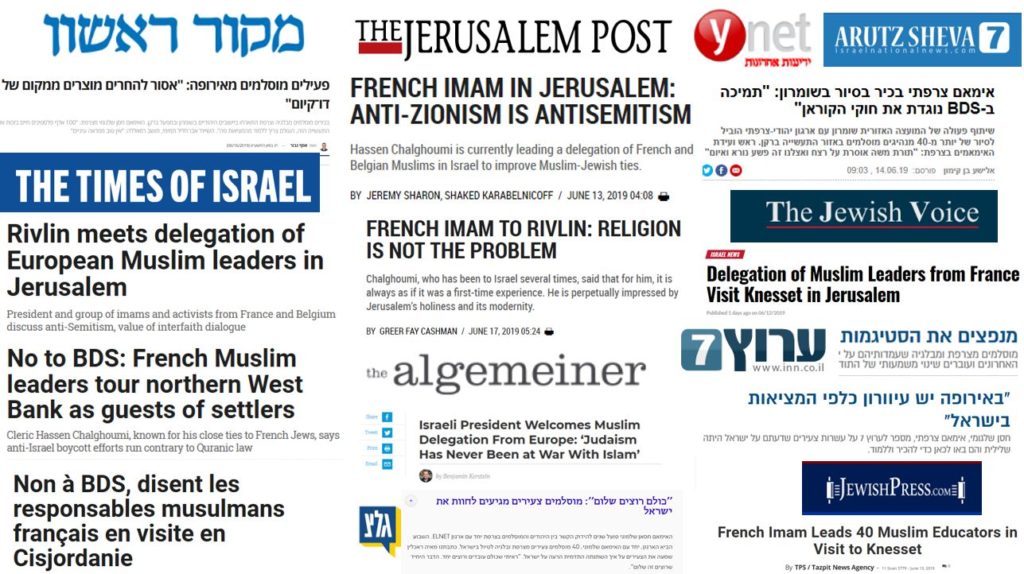 The visit received wide press coverage.
In an interview with Jerusalem Post, Imam Chlaghoumi spoke about his experience in Jerusalem, and the efforts to combat extremism and engage in interfaith work following a series of Islamist terrorist attacks in France and Belgium beginning in 2012.
Imam Chalghoumi asserted that anti Zionism is antisemitism, saying, "what characterizes anti-Zionism is hatred. If we were simply talking about criticism of the State of Israel, we wouldn't see the hatred and talk of the need to wipe out and destroy Israel."
The Times of Israel and Jerusalem Post reported about the meeting of the delegation with the President of Israel, Reuven Rivlin:
"Chalghoumi convinced that Muslims in France, such as the young people in his delegation, could be a bridge to understanding and hope for a more peaceful future. He declared that he regards Rivlin as a symbol of hope, and assured him that there are many Muslims in the world who seek reconciliation with Israel. Rivlin reiterated what he has said many times that Israel does not have a war with Islam, only with Muslim fundamentalists. As a Jew, and a multi-generational Jerusalemite said Rivlin, he could not rest easy, if fellow citizens of another faith did not enjoy equal educational opportunities, freedom of worship and freedom of speech."
Featured Photo Credit: Mark Neiman / GPO